France presidential hopeful in pastry price gaffe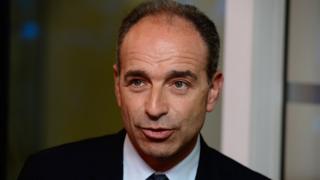 It's often said that politicians should know the price of milk, but in France one presidential hopeful is being lampooned for not knowing the cost of a pastry.
Jean-Francois Cope was asked during a radio interview with Europe 1 if he knew how much a pain au chocolat - or chocolatine as they're sometimes known - would set you back these days. He initially says he has no idea, before hazarding a guess of between 10 and 15 cents (around $0.16; 13p). When the presenter points out it's actually well over one euro, Mr Cope jokingly responds that he doesn't buy them often because they're too calorific.
Mr Cope is standing in the centre-right primary to select a candidate for next year's presidential election. He's a former budget minister who once taught local economy and finance at the renowned Sciences Po university in Paris.
Europe 1 radio has shared the interview on its Twitter feed, where people are decidedly unimpressed. Some are incredulous that politicians with an influence over the economy don't know the price of an iconic French snack. "They are completely disconnected from real life," one user says, a view shared by many commenting online. Others merely poke fun at him, with one person tweeting: "I don't know where he buys his pains au chocolat but they must not be 'pure butter'."
Many politicians have been tripped up by similar questions on day-to-day costs in the past, perhaps most famously US President George H W Bush, who confessed during a presidential debate that he didn't know the cost of a gallon of milk.
In response to the online mockery, Mr Cope is sticking to his line about watching his weight. Tweeting a photo of fruit and vegetables with a "five a day" label, he says: "I confess to being very conscious of my figure... So actually I stopped the 'chocolatines' a long time ago!"
Next story: Pee problem eroding world's tallest church
Use #NewsfromElsewhere to stay up-to-date with our reports via Twitter.