Russia to re-open 'drunk tanks' for World Cup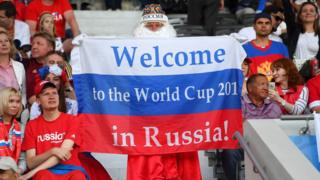 Football fans who find themselves the worse for wear during the 2018 World Cup in Russia will be able to find help at sobering-up stations, which are being re-opened specially for the tournament.
Russia's "drunk tanks" - known as vytrezvitel - were first introduced in 1904 and became widespread during Soviet times, but the network was shut down in 2011. Now, senior health ministry official Yevgeny Bryun has announced they'll be re-opened in 11 host cities for the month-long event.
Drunk tanks are intended as be safe spaces where people incapacitated by alcohol can be taken by police in order to dry out. An opinion poll last year found that 80% of Russians supported their return.
Russian football fans have cautiously welcomed the plans. Eduard Latypov, head the fan movement Russia Unites, says it's a sensible decision but shouldn't be a form of punishment, just a means of avoiding trouble. "Many fans arrive in another country or city to watch the game and never go to the stadium, they head straight into a bar," he tells the URA.ru news agency.
Alcohol-fuelled clashes between Russia and England fans marred the early days of Euro 2016, but the head of the All-Russia Supporters' Union thinks drunk tanks will mainly serve foreigners. Alexander Shprygin, who was among those detained after the Euro 2016 violence and has been accused of far-right links, says it's a good solution for English or German fans "who don't know their limits". They may need medical assistance "when they are literally falling out of bars", he says.
But a leading Russian alcohol market researcher, Vadim Drobiz, says it's quite the opposite - that drunk tanks are suited mainly to nations with a culture of street drinking, like Russia. He tells internet newspaper DNI.ru: "This is for when you get drunk and fall into a pile of snow, they pick you up and take you to a vytrezvitel."
Next story: Russian restaurant closes over dead warlord insult
Use #NewsfromElsewhere to stay up-to-date with our reports via Twitter.