Russian restaurant closes over dead warlord insult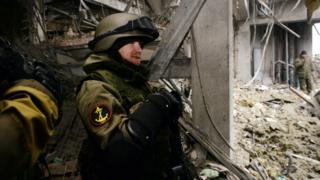 A Russian restaurant has been forced to close after a social media post insulting a controversial warlord killed in eastern Ukraine sparked an outcry.
Arsen Pavlov, better known by his nom de guerre "Motorola", died last week in a bomb blast in the separatist stronghold of Donetsk.
But Grigory Pashukevich, the head chef and founder of the C1tizen pasta bar in St Petersburg, had little sympathy for the late commander. Writing on Facebook, he made a slighting reference to Motorola's supposed previous job as a car-wash attendant and a crude reference to his widow's sexual preferences.
Motorola, a Russian citizen who volunteered for the separatist cause, is reviled in Ukraine as a war criminal, and once told the Kiev Post that he had killed 15 prisoners of war. But he's viewed as a hero by many in Russia - his funeral in Donetsk was one of the top stories on Russian TV that night.
One of his biggest admirers is Dmitry Steshin, a war correspondent with pro-Kremlin daily Komsomolskaya Pravda. He shared Mr Pashukevich's comments with his 85,000 Twitter followers, provoking an online backlash against both the chef and his restaurant.
Some users highlighted a photo of Mr Pashukevich wearing a T-shirt blazoned with "Ukraine" and the country's national symbol of the trident. One St Petersburg resident tweeted: "A typical Ukrainian patriot. He also probably spits in every dish as a way of resisting aggression."
Mr Pashukevich deleted his original post and issued an apology, while the restaurant announced that he was no longer working for them. But a day later, C1tizen told its followers on the VKontakte social network that it had closed. "What is said can't be unsaid - all we can do is try to rectify it," the post said. "We'd like to apologise to those who we have upset and say goodbye to those who cared about us."
The fate of C1tizen is another cautionary tale about the pitfalls of speaking out about Ukraine on social media in Russia. In the last couple of years, several bloggers have been jailed or received criminal convictions after voicing pro-Ukraine sentiments.
Next story: Canada church's baby Jesus statue turns heads
Use #NewsfromElsewhere to stay up-to-date with our reports via Twitter.