Bar brawl lands Ukraine archbishop in monastery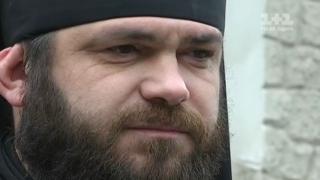 A Ukrainian archbishop has been sent to a monastery for a month after being caught on CCTV taking part in a bar brawl, it's reported.
Police armed with Kalashnikovs were called to break up the melee involving the Archbishop of Ternopil and Podillya, Mstyslav, some of his clergymen and other patrons, the 1+1 TV channel reports. The men are members of the Ukrainian Autocephalous Orthodox Church (UAOC), the smallest of Ukraine's three Orthodox churches, which says on its website that the archbishop is being sent away "for repentance".
The night started well enough - before the fisticuffs, the footage appears to show them happily dancing with various women at the venue in Ternopil. But that didn't please church leaders either, as their outing took place during a period of fasting to mark an Orthodox holy day, during which any festivities are banned.
Video footage of the brawl was broadcast on 1+1 TV, and has garnered more than 300,000 views on YouTube in three days. Archbishop Mstyslav initially denied being involved, apparently unaware of the CCTV footage, but the church's leader appears to have admitted it on his behalf. "I, as the church head, would like to apologise to the UAOC and all Ukrainian believers for the actions of the clergymen," Metropolitan Makariy said.
While the archbishop will spend the next few weeks at the monastery, his subordinates have been suspended from pastoral duties. The church says it will also launch its own investigation into the incident.
Next story: Copenhagen clown-hunting event planned for Halloween
Use #NewsfromElsewhere to stay up-to-date with our reports via Twitter.