Copenhagen clown-hunting event planned for Halloween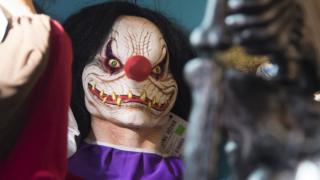 Anyone spooked by recent "creepy clown" incidents might want to avoid central Copenhagen on Halloween, as dozens of them will be on the loose, it's reported.
About 50 clowns will be roaming around as part of a clown-catching competition, with cash prizes on offer for the participants who collar the most, the regional TV2 Lorry channel reports. Each clown will have a number, which hunters will have to collect and hand in to organisers in the main square. The top prize is being advertised as 3,000 kroner ($440; £360).
Police say they're aware of the clown hunt and will be following it, but they have no plans to intervene. "After all, it's not illegal to dress up as a clown," they tell the channel.
The event was announced by a Facebook group called Klovne (Clowns) - its organisers are anonymous but say that they don't want any violence. "So no weapons or sharp objects! But just know that the clowns are not averse to giving you a good scare!" the event's page says. So far, more than 800 people have said they plan to attend.
"Creepy clown" incidents, where passers-by have been scared or even attacked by people dressed up as clowns, have been widely reported in the US and UK, and several have occurred in Denmark in recent days.
Next story: Masking tape fix saves kiwi chick's life
Use #NewsfromElsewhere to stay up-to-date with our reports via Twitter.