Russian social media site set up for pets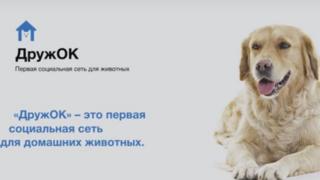 A popular Russian social media site is launching a platform where pets - or perhaps their owners - can let the world know what's going on in their lives.
Odnoklassniki (Classmates) says that its site is the first of its type in the world and, although the software is still in development, users can already register their pets, Dozhd TV reports.
The online animal hang-out is called 'DruzhOK' (meaning 'little friend' in Russian). The little friends in question will need to be registered by name, breed, gender and age, so that other owners can find them soulmates and - as Dozhd points out - pet suppliers can hone their online sales campaigns. Indeed, a petfood company is involved in the project, but Odnoklassniki insists that it will go ahead even if the sponsor drops out.
The site looks far more like Facebook than the Odnoklassniki interface, and allows users to add friends, and 'like' and comment on their photos. Pet owners also have to register their own details and link to their Odnoklassniki accounts.
Media reaction has largely reflected genuine interest in the project, despite online cynicism about the marketing aspect. Some social media users have also drawn parallels with the activity of the Russian government's "pet trolls" on the Internet, although others have suggested positive uses for the site, such as tracking lost pets.
Next story: Uzbek football cotton photos prompt mockery
Use #NewsfromElsewhere to stay up-to-date with our reports via Twitter.