Uzbek football cotton photos prompt mockery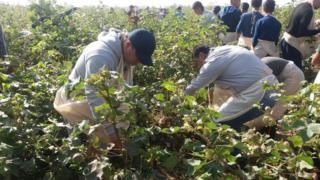 Struggling Uzbek football club Andijon has sent its players to help bring in the cotton harvest, prompting some social media amusement.
The team from eastern Uzbekistan is bottom of the national league with six games to go, and photos of its squad picking sackloads of cotton have not done them many favours, the Tribuna.uz sports website reports.
FC Andijon was hoping to show its public-spiritedness by publishing the photos on its website and social media, saying "coaches and players are working side by side to bring in the harvest" during the break in local fixtures caused by the national squad competing in the 2018 World Cup qualifiers.
Uzbekistan's state-run farms are performing no better than FC Andijon, and the government regularly drafts teachers, doctors and other public servants in to help out in what amounts to forced labour. Actors and singers ingratiate themselves with the authorities by appearing to take part in the back-breaking work, or at least entertaining the labouring masses - especially as refusal to do so can lead to threats of blacklisting.
But the plan hasn't worked with sports pundits. "Andijon footballers went to pick cotton. They have found their metier, and in the right place," journalist Elmurod Ermatov mocked on Twitter. And some social media users, keen not to single out Andijon, even suggest that the national team might also be of more use in the cotton fields than on the pitch after its recent defeat by Iran.
Next story: Bugged samovar leads to arrest of Russian officials
Use #NewsfromElsewhere to stay up-to-date with our reports via Twitter.