South Korea launches earthquake text alerts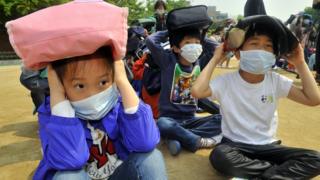 South Korea is to launch a service to alert citizens about earthquakes, but they'll only be available in the Korean language and if you have the right type of phone.
From mid-November, text alerts will be sent to all mobile phones in the vicinity of an earthquake measuring 4.0 or higher on the Richter Scale, the Chosun Ilbo newspaper reports, quoting the country's Ministry of Public Safety and Security. To save time, the alerts will come directly from the Korea Meteorological Association, and the stronger the quake, the larger the catchment area for the alert service.
However, there are a few hurdles to clear before the service becomes universal. The text alerts won't reach around 12 million owners of 3G mobile phones, who will have to download a special app; and there are worries that the warnings will only be sent out in Korean.
According to the Korea Times, the language barrier is a known problem into which ministry officials are looking. "We have developed an English version system but due to the malfunction from the last earthquake in September, we are currently in the process of repairing it. Currently, there is no way to receive the emergency alert texts, except for Koreans," a spokesman told Korea Times.
The new service comes in the wake of the Gyeongju earthquake of 12 September, which - at 5.4 on the Richter Scale - was the strongest ever recorded in South Korea. The country's president, Park Geun-hye, subsequently pledged better preparation for future events, particularly concerning nuclear reactors and other key facilities.
Next story: Scientists say Crimea is moving toward Russia
Use #NewsfromElsewhere to stay up-to-date with our reports via Twitter.