Russian scientists say Crimea 'moving toward Russia'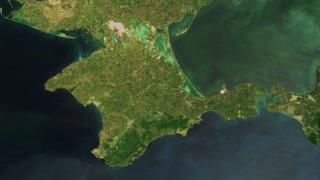 Russian scientists say that the politically disputed Crimean peninsula is moving towards Russia, and should eventually reach the mainland in 1.5 million years.
According to Alexander Ipatov, who heads the Institute of Applied Astronomy at the Russian Academy of Sciences, the peninsula, annexed from the Ukraine by the Russian Federation in 2014, is moving north-east toward mainland Russian at a rate of 2.9mm per year, Interfax news agency reports.
"When Crimea joined Russia we tried to answer to a question as to where Crimea is moving. And we determined that it is moving towards Russia," Ipatov said. He went on to say that while the statement may appear to be some sort of joke, it comes from serious scientific research.
The tectonic movement of the peninsula was registered using scientific equipment installed in the Crimean village of Simeiz, Interfax says.
It's a concept which has excited Sergei Aksenov, the Russia-backed leader in Crimea. Speaking to pro-Kremlin Life.ru, he said: "In a geological sense our peninsula has been drifting towards mainland Russia for many thousands of years. The political drift lasted 23 years and only several days of the Crimean Spring were required for us to reunite with our historical homeland." Which the exception of a handful of long-standing Russian allies, the international community has not recognised the annexation of the peninsula.
As a result of this discovery, Russian social media users joked that there would be no need to build the 19km (11.8 mile) Kerch bridge linking Crimea and mainland Russia if the peninsula is moving towards Russia anyway. "Crimea's bridge is no longer needed: in as little as 300 million years Crimea will join [Russia's] Krasnodar Region," a spoof account of the Russian Foreign Ministry wrote. "Let it reach the shore itself," wrote another Twitter user. This exceedingly long game - actually only 1.5 million years, Komsomolskaya Pravda points out - could save Russia $3.5bn (£2.75bn) in construction costs, it's been reported.
In 2007, geophysicist Boris Levin said that another disputed territory - the Kuril Islands - are moving towards Russia's Sakhalin Island at a speed of 18 mm a year, pro-Kremlin Izvestia newspaper reported.
Next story: Estonia imports rubbish to keep power plant running
Use #NewsfromElsewhere to stay up-to-date with our reports via Twitter.