Swedish town vows to protect giant Christmas goat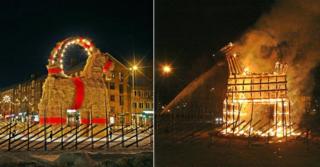 A Swedish town famous for its Christmas tradition of erecting a giant straw goat has said extra efforts will be made to protect the attraction from arsonists this year.
Yule goats are a Scandinavian tradition, and a huge version has appeared in the town of Gavle every year since 1966. But despite pulling in the crowds, the goat has regularly met a fiery fate. It has been destroyed on 34 occasions, including last year when it survived Christmas, only to be doused with petrol and set alight on 27 December.
Now, councillors are determined that the goat's 50th anniversary remains flame-free. The town is upping this year's Christmas celebration budget by 850,000 krona ($99,000; £76,000), and some of that cash will go on extra security, the Gefle Dagblad newspaper reports. "There will be more guards - we have said that we should try to have a 'goat guarantee' on the first weekend," says councillor Helene Akerlind.
As The Local points out, the straw goat has become quite a celebrity, even having its own Twitter account with nearly 9,000 followers.
Despite the councillors' security plans, a poll by the SVT public broadcaster suggests some Swedes don't hold out much hope. Half of those responding think it's going to burn anyway, compared to 31% who are confident it'll survive - the rest either don't know, or don't care.
Next story: Macedonian music silenced over copyright spat
Use #NewsfromElsewhere to stay up-to-date with our reports via Twitter.