Italy mayor cleans streets due to bureaucratic 'bungle'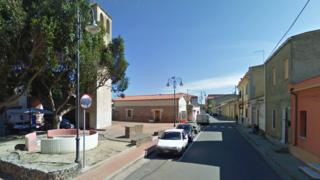 An Italian mayor has been cleaning the streets along with his councillors after their town was left with no manual workers, it's reported.
Anyone calling the town hall on the morning La Stampa visited Zerfaliu, in western Sardinia, was told that Mayor Pinuccio Chelo wasn't in the office because he was outside cleaning. In fact, he was sweeping the piazza in front of the local church in preparation for market day, alongside the deputy mayor's father and a town councillor armed with a high-pressure hose, the paper says.
Zerfaliu's last worker retired six months ago and nobody has been hired since then. "We can't do anything - we are blocked by bureaucracy," the mayor says. An employee going on sick leave has caused everything to grind to a halt, according to La Stampa, despite the town having 150,000 euros ($170,000; £130,000) ready to spend on projects for the unemployed.
Councillor Sandro Murtas says they had no choice but to roll up their sleeves "because people expect solid responses from us, not bureaucratic bungling." Among many approving comments on the paper's Facebook page, several readers point out that mayors in other small communities do the same in order to keep things going.
In 2015, a Turkish mayor took a rather different approach to keeping his locality clean. To highlight persistent littering in Yozgat's main square, he told cleaners to avoid the area for 10 days. His philosophy at the time: "Nobody has the right to think 'we will litter, the municipality will clean it up'."
Next story: Concern over falling kea numbers in New Zealand
Use #NewsfromElsewhere to stay up-to-date with our reports via Twitter.