Uzbek region promises TVs for top cotton pickers
By News from Elsewhere...
...as found by BBC Monitoring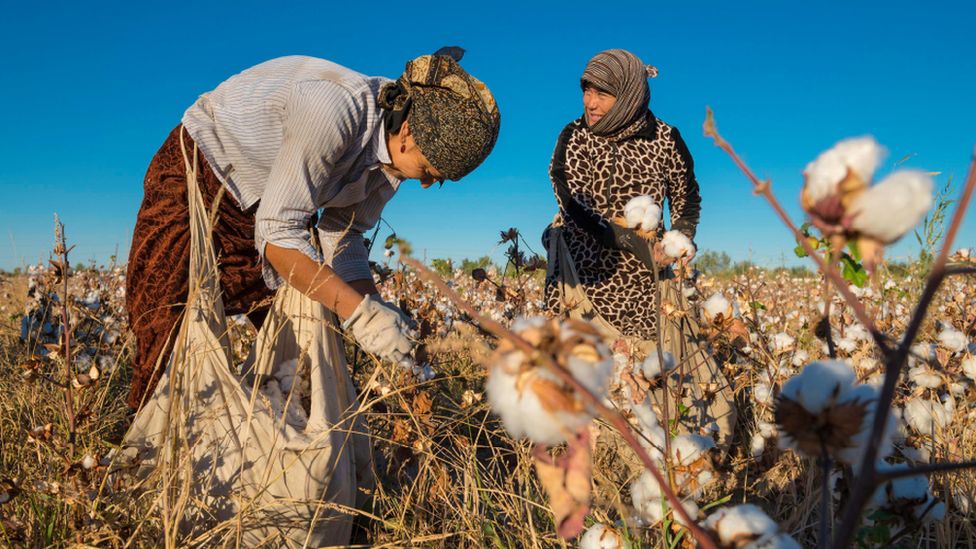 A region in eastern Uzbekistan is promising electrical appliances to people who pick the most cotton during the annual harvest, it's reported.
The governor's office in Sirdaryo says families who gather five tonnes of cotton will get a free television, while those who pick 10 tonnes will be given a fridge or washing machine, the local Kun.uz website reports. There's an even bigger bonus for people who can harvest 15 tonnes - they'll be allowed to skip the long waiting list for a locally made car, according to the region's website. It says all cotton pickers will be paid in cash, and the prizes are an extra incentive for "the most hard-working people".
Buying a new car can be a drawn-out process in Uzbekistan, with waiting lists of up to six months and deposits as high as 85% for some Chevrolet models, which are made in the country. Second-hand cars can be bought more easily at markets, but many people prefer a new set of wheels.
While Sirdaryo is dangling a carrot, Uzbekistan's interim President Shavkat Mirziyoyev seems to have opted for the stick. According to US-backed Radio Ozodlik, he's threatened to jail farmers who don't meet their cotton-picking targets.
Use #NewsfromElsewhere to stay up-to-date with our reports via Twitter.