Bosnian school pupils reject ethnic divisions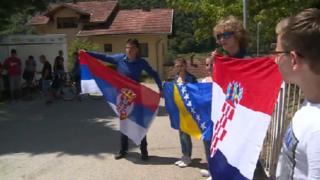 Secondary school pupils in a Bosnian town have started the new school year together despite political attempts to separate them along ethnic lines.
Education in Bosnia-Herzegovina is not controlled at a national level, and three separate curricula are used in different parts of the country depending on the ethnic make-up of an area - Bosniak (Bosnian Muslim), Serb or Croat. The language of instruction, and how subjects such as history and religion are taught differs under each system.
In the town of Jajce, pupils at the two secondary schools currently study in ethnically mixed classes which follow the Croat curriculum, but the regional assembly wants that to change. In June, it voted to establish a new school where Bosniak students would follow their own curriculum, arguing that they were being discriminated against under the existing set-up.
"Our children in Jajce study from textbooks printed in Zagreb and are given diplomas with the Croatian coat of arms in the background. This has meant the discrimination and humiliation of Bosniaks for the past 18 years," municipal leader Edin Hozan told the Oslobodjenje daily in July, adding that the move was backed by parents.
It seems the students themselves didn't agree, though, as many spent their summer protesting against the plans. "We do not want divisions. We socialise together and we get along," Bosniak student Admira Kasum told the N1 TV channel during one protest. "After we were separated in primary school, it was wonderful when we started secondary school together. We'll do everything not to be divided."
And it seems they've been successful - plans for the new school have been shelved, at least for now. As students returned to school on Monday, the Buka news portal called them "young heroes" for their months-long "rebellion", but noted that the politicians' plans may simply be on hold as they're in the midst of an election campaign.
For the students who fought the decision, there's relief. "We are together again and it's great, we see unity in the school," Bosnian-Croat student Ivica Jukanovic tells Bosnia-Herzegovina Federation TV . "I was so glad when I arrived and I could see what I have been fighting for the whole summer."
Next story: Police rations gripe costs Russian officer his job
Use #NewsfromElsewhere to stay up-to-date with our reports via Twitter.