Tokyo quake drill focuses on tourist language barrier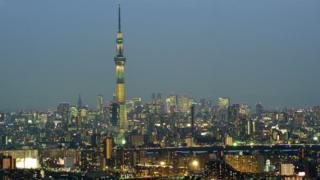 Tokyo has carried out an earthquake drill focusing on how to safely evacuate masses of foreign tourists when faced with a language barrier.
The exercise took place on the 350m (1148ft) high observation deck of Japan's tallest building, Tokyo Skytree, and involved evacuating more than 100 foreigners down to ground level, the Asahi Shimbun newspaper reports. Emergency response officials carried portable translation devices to communicate with visitors individually, allowing spoken Japanese to be translated into three languages - Korean, Chinese and English. The same process was used to relay simple instructions over a megaphone, such as: "Everyone please gather over here."
Tokyo is gearing up for an influx of tourists when it hosts the 2020 Olympic and Paralympic Games, and Governor Yuriko Koike tells Kyodo News Service that: "We have to take safety measures as we will be hosting people from around the world". She wants foreign visitors to acquaint themselves with the city's disaster preparedness manual before they arrive, which gives specific instructions on how to act in different environments - on the metro, driving on the motorway - if a quake strikes, and what not to do.
In 2012, experts at Tokyo University said there was a 98% chance of a magnitude seven quake hitting Tokyo within 30 years, although the government estimates the probability at 70%.
Next story: Moscow police swoop on fake 'bride kidnapping'
Use #NewsfromElsewhere to stay up-to-date with our reports via Twitter.