Thai university creates Pokemon-style parasite app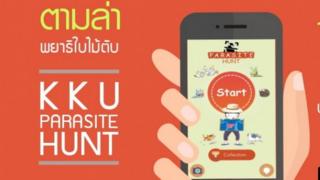 A Thai university has created a Pokemon Go-inspired app with an educational aim - to raise awareness about potentially lethal parasitic diseases.
The mobile app, called Parasite Hunt, challenges players to seek out various beacons using hints on their smartphones, and then scan a code to reveal a virtual parasite, The Nation website reports. It's been developed for a science fair at Khon Kaen University in north-eastern Thailand, home to a centre for tropical disease research.
The app aims to teach youngsters about the dangers of eating raw freshwater fish, a common practice in parts of the region, which raises the risk of contracting the parasitic disease opisthorchiasis and developing bile duct cancer.
Once a player has found the virtual parasite, they have to answer questions in order to receive points. "The highest-scoring players will get rewards," says Assistant Prof Dr Nisana Namwat, who leads the university's bile cancer screening and care centre. "Information about the diseases and parasites will be stored on a collection page and can be read at any time," she says.
Opisthorchiasis is described as a disease of poor communities, endemic in villages which rely on fishing. The university says there's a general lack of knowledge about the dangers posed by parasites, which can remain in the body for up to 20 years. It says the game is a fun way to engage youngsters, in the hope that they pass on their newly acquired knowledge to others.
Next story: China staff fined for not liking boss's Weibo posts
Use #NewsfromElsewhere to stay up-to-date with our reports via Twitter.