Niue rolls out baby bonuses to boost population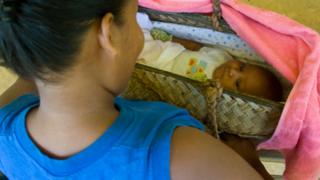 Niue's government is offering people cash bonuses to encourage them to make more babies.
Aimed at boosting the Pacific island's dwindling population, the newborn bonuses of NZ$2,000 (US$1,437; £1,100) will be paid in four instalments during the early months of a child's life, Radio New Zealand reports. Niue - which translates as "behold the coconut" - is currently home to fewer than 1,500 people, according to its official tourism website. A dual citizenship agreement means many more live in New Zealand than on Niue itself - almost 24,000 in 2013, most of them New Zealand-born.
The government says its tax-free cash payments will support new parents and help to sustain the country. "The Niuean people are rare in this world and it is important that we strive for continuity of our race," it says in a statement. Both Niuean nationals and permanent residents are eligible for the payments, although achieving permanent residency status takes a decade, Radio NZ points out.
Using cash to encourage baby-making has been tried elsewhere before. A similar policy was criticised in Italy for not addressing other factors which can affect family life, such as flexible working and childcare. And in Finland, some councils tried to entice new residents by offering building plots for a euro, although at least one municipality gave up due to a lack of interest.
Read more: Niue territory profile
Next story: Balkans factory gives 'shoe of support' to Melania Trump
Use #NewsfromElsewhere to stay up-to-date with our reports via Twitter.