Japan app translates rail announcements for tourists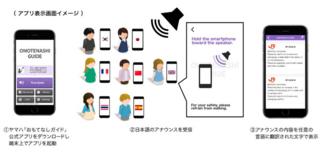 A new mobile app could make life easier for foreign tourists in Japan by turning loudspeaker announcements into text in their own language.
The free app, called Omotenashi Guide, is currently in the testing phase and is designed to work without an internet connection, the Asahi Shimbun newspaper reports. It works by picking up a signal embedded in loudspeaker announcements, turning the audio into text in Japanese - for locals who may have hearing difficulties - and six other languages, including English, Spanish and Korean. It'll be trialled later this month at bullet train stations in Tokyo, Hamamatsu and Kyoto, and is also being tested in shopping centres and airports.
A key challenge for using the technology in stations - particularly those that accommodate high-speed lines - is the amount of noise caused by passing trains. The trial period will begin at the concourse level, and then move to platforms to determine whether the app can overcome the noise and vibrations, the paper says.
The app's developer, Yamaha, says it can translate both automated recordings and live voice announcements. At the moment it's only available on Apple devices, but an Android version is in the works.
Japan has seen foreign visitor numbers soar in recent months and it will welcome even more when Tokyo hosts the 2020 Olympic and Paralympic Games. Some local authorities are tackling the language barrier with 24-hour multilingual phone lines, helping foreigners with everything from finding a doctor to negotiating a good price on souvenirs.
Next story: K-pop band given military anti-smoking mission
Use #NewsfromElsewhere to stay up-to-date with our reports via Twitter.