UAE government selects 'happiness officers'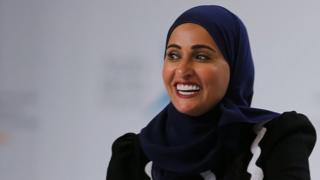 The United Arab Emirates (UAE) is to send dozens of officials abroad for five months of training in the science of happiness.
Sixty people have been chosen as the country's first "chief happiness and positivity officers", and will be heading overseas in September, the Emirates 247 website reports. They were selected from among 200 candidates in national and local government departments.
The trainees will undergo an "intense" study programme in the UK and US, the government says, with stints at Oxford University's Mindfulness Centre and the Greater Good Science Centre at the renowned University of California, Berkeley. Their training will all be focused on learning about happiness and how to spread it. The National newspaper has dubbed them "pioneers of positive thinking".
The UAE has been on a happiness drive of late, with Prime Minister Sheikh Mohammed bin Rashid Al Maktoum announcing its first minister of state for happiness in February. Ohood Al Roumi took up the role, and says the new training programme is part of efforts to make it one of the happiest countries in the world.
It's not only happiness that's been on Sheikh Mohammed's radar, though. Earlier this year he used Twitter to advertise another unusual cabinet post reserved for a recent graduate under the age of 25. At the time he said it was "logical" to give young people a voice as they make up half of Arab societies and are "our hope for the future".
Next story: Dusseldorf residents told to pay for Nazi-era road
Use #NewsfromElsewhere to stay up-to-date with our reports via Twitter.