Italy broadband plan for Unesco World Heritage Sites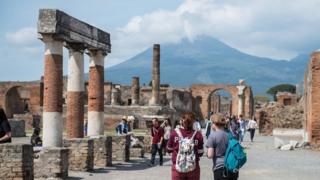 Italy has announced plans to provide high-speed internet access at tourist attractions across the country, including all 51 of its Unesco World Heritage Sites.
Major seaside resorts, historic cities and entry points such as airports and stations will join the Unesco sites as the first to be connected under a trial scheme in early 2017, La Repubblica reports. The government ultimately wants to create a nationwide wi-fi network, which users can access via a single personal login. The paper notes that it will allow data to be collected on where tourists are spending their time.
Officials say the plans will make it easier for people to enjoy Italy's natural and cultural attractions. "Today the internet is changing the tourism industry and the enjoyment of culture profoundly and rapidly," says Antonello Giacomelli from the economic development ministry. "We need to integrate services as much as possible because the digital element is part of the complete visitor experience."
Italy has more World Heritage Sites than any other country, from the archaeological ruins at Pompeii and Herculaneum, to Palladian villas and Sicily's Mount Etna. But a lack of state funding has led to concerns about the upkeep of some historic sites, particularly at Pompeii, where several walls have collapsed in recent years. In May, the government said it would spend 1bn euros ($1.1bn; £840m) on 33 cultural heritage projects, the biggest such investment in decades.
Next story: Museum cats spared eviction after online campaign
Use #NewsfromElsewhere to stay up-to-date with our reports via Twitter.