Former Barcelona star Carles Puyol in 'Spanish' row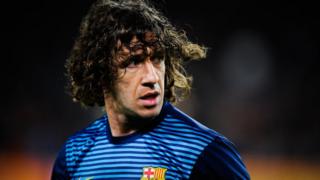 Former Barcelona footballer Carles Puyol has struck a nerve among his fellow Catalans by saying that he's Spanish in a TV advertisement.
While promoting popular online platform Tencent Sports, Puyol said "Soy Carles Puyol y soy espanol" ("I am Carles Puyol and I am Spanish"), prompting an angry reaction from many Catalans, Spanish sports website Sport.es reports. Although technically correct - Puyol won the World Cup playing for Spain in 2010 - it's been seen as an insult to his native Catalonia region, which has ambitions to become independent.
"Traitor", "deserter" and "sell-out" were all used against Puyol by Catalan Twitter users, the AS newspaper reported. "Take the money and damn Catalonia," one Twitter user posted in response. Another said: "Embarrassing, Carles Puyol, I thought you loved your people more than money." But as The Local reports, some rejected the criticism, and compared it to the benign reaction to current Barcelona star Lionel Messi's recent conviction for tax fraud. "Messi steals from Spaniards - Catalans included - and Catalans applaud him. Puyol says he's Spanish: insults," one post said.
Puyol is the very definition of a "one club" footballer, playing 593 times for Catalan giants FC Barcelona in a career which ended in 2014, winning Spain's La Liga six times and the Champions League on three occasions. As well as his 100 caps for Spain, he also played for an unofficial Catalonia "national" side six times.
In his defence, Puyol was promoting Spanish league football to a Chinese audience who would be largely unaware of Spanish-Catalan politics. He's an ambassador for La Liga and has carried out similar work in France, Sport.es says. Whether recording the advertisement in Chinese - "Wo shi Xibanya ren" - might have made a difference is up for debate.
Next story: Couple build 'fairytale' castle in Transylvania
Use #NewsfromElsewhere to stay up-to-date with our reports via Twitter.