Japanese migration theory brought to life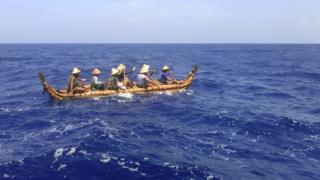 A team of 14 people aboard a pair of bulrush canoes have recreated part of a migration journey said to have taken place 30,000 years ago.
The expedition is intended to find out if it was possible for early settlers to reach Japan's southern island group from Taiwan using the materials and technology they had at the time, the Kyodo News Service reports. While the original settlers' journey was probably around 730km (450 miles) through the Nansei Islands, the researchers instead paddled their six metre boats some 75 km (46 miles) to reach Iriomote Island in Okinawa Prefecture, arriving on Monday morning after 28 hours at sea.
Preparations for the journey began in February with an appeal from the National Museum of Nature and Science in Tokyo for the public to raise the funds necessary for it to happen. In the end, 26.2m yen ($250,000; £187,000) was raised, exceeding the museum's funding goal, Mainichi Daily News says.
The canoes are modelled on the style of reed boats still in use on Lake Titicaca on the Peru-Bolivia border. They're made entirely from grass, as there is no evidence of woodworking tools in relics dating back more than 30,000 years found on the Nansei Islands that form part of the boat migration theory. "Through the sea journey, we will be able to visualise our ancestors' lives, which are hard to imagine merely through surveys of relics," lead researcher Yosuke Kaifu told The Japan Times.
Now that the first journey is over, attention turns to next July, where the team plans a longer journey from Taiwan to Yonaguni Island, some 200km (125 miles). "We want to know what people 30,000 years ago did," Kaifu said.
Next story: Taiwanese web users join 'Apologise to China' contest
Use #NewsfromElsewhere to stay up-to-date with our reports via Twitter.