Lithuania ambassador intervenes over 'Soviet' sportsman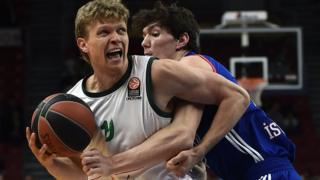 Lithuania's ambassador to the United States has intervened after a Lithuanian sportsman was wrongly declared to be from the Soviet Union, a nation which ceased to exist in 1991.
Basketball star Mindaugas Kuzminskas made the switch to the NY Knicks in a multi-million dollar deal this week after honing his craft in domestic and European leagues, the New York Post reports.
But as Lithuanian news portal Zw.lt says, the six-foot-nine forward's new team caused dismay in his homeland by listing his nationality as the Soviet Union.
It's an error that's resulted in diplomats becoming involved, with a spokesman for Lithuanian Foreign Minister Kestutis Vaskelevicius saying that Ambassador Rolandas Krisciunas would write to the club to "draw their attention to the error".
The protest seems to have had the desired result, with Kuzminskas now being listed as a Lithuanian.
It's not the first time this has happened to Lithuanian sportsmen joining the big-money professional league in the US, Sportsblog says. Players Donatas Motiejunas and Domantas Sabonis encountered similar problems on their arrival in the NBA, the website notes.
Lithuania became independent of the USSR in 1990, and although Kuzminskas was born in 1989, he, and millions of Lithuanians list their country as their place of birth rather than the old, and largely despised, Soviet Union.
Kuzmiskas interrupted his preparations for the Olympic Games, where he's representing his home country, to tweet: "Just to clarify to everyone - I am Lithuanian:) I am sure @NBA @nyknicks will fix it;)"
Next story: German museum offers Lego exhibits
Use #NewsfromElsewhere to stay up-to-date with our reports via Twitter.