Hundreds turn up for chat with Serbian premier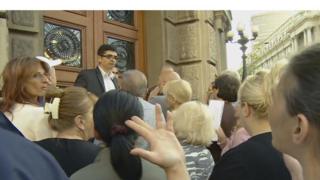 Serbian Prime Minister Aleksandar Vucic may have got more than he had bargained for when he invited citizens round to his office for a chat, after more than 5,000 people from all over the country applied for the chance to discuss their problems with him - many turning up in person.
Some of the hundred or so people queuing outside his office told Al-Jazeera Balkans why they had come to see Mr Vucic. Ranko hoped the prime minister would help him solve a planning dispute, and Slavica sought advice on filing an employment grievance. But many, like Slobodan, said they were "just excited about meeting the prime minister in person".
The first slot was set for 0530 am on Friday, and many hopefuls turned up much earlier with picnic chairs to camp out in expectation of a long wait. They were right, as by mid-morning Mr Vucic had managed to see only 40 people, Blic newspaper reports. Some people said they saw the prime minister as their last hope, having exhausted all other options. One man said he had come because Mr Vucic "can do whatever he wants".
Mr Vucic has publicly criticised ministers for turning up to their offices late, and said he wanted to set an example of a different working culture. But not all commentators are pleased with his initiative. Retired professor Srbijanka Turajlic said it sent a "wrong picture of Serbia to the world", one of a "medieval state" where subjects petition the ruler to fix all their problems. She added that the invitation implies that the regular channels are not working, which should worry the prime minister.
Next story: Russian region 'bans' divorce for one day
Use #NewsfromElsewhere to stay up-to-date with our reports via Twitter.