Denmark's longest flint axe found by drain digger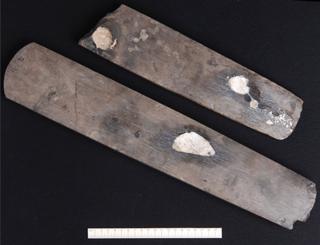 A man in Denmark has excavated what's thought to be country's largest Neolithic flint axe while digging a drain.
Stumbling across a rectangular object while working with a friend in a drained marsh near the town of Skive, in northern Jutland, back in April, Tage Pinnerup took it for a worthless piece of wood, the TV2 channel reports. "At first I thought it was a board sticking up out of the ground," he tells the station. "But when I got closer, I could tell that it was something else."
The two men dug up another, similar object, and continued working. But after a bit of research on the internet, Mr Pinnerup later decided to take the two items to the nearby Viborg Museum for investigation.
It now turns out that they are 5,700-year-old flint axes from the Neolithic Funnel Beaker culture. At 50.5cm (20in), the bigger of the two is in fact the longest ever found in Denmark, and possibly the world, according to curator Mikkel Kieldsen. "I thought 'My God, it can't be. There must be something wrong with his ruler'," he tells the newspaper BT about hearing news of the discovery.
The axes, which may have been thrown into the marsh - a former lake - as offerings to the gods, will be displayed at an exhibition in Denmark's National Museum next year.
Mr Pinnerup will get about $16,400 (£12,500) for the axes, according to BT, and says that his first treat will be ice creams for the two men's families. "We have also talked about going out for dinner, and will take it from there."
Next story: Iceland road painted to stop Arctic terns being killed
Use #NewsfromElsewhere to stay up-to-date with our reports via Twitter.