China students given ice blocks to beat the heat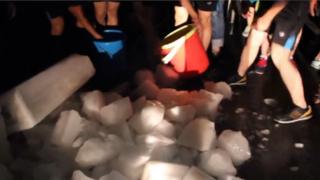 A university in China has responded to complaints about a lack of air conditioning in student residences by ordering huge chunks of ice to cool people down.
Lushan College - in the southern city of Liuzhou - brought in a lorry-load of ice each evening as temperatures top 35C, Beijing News reports. The college, which is part of the Guangxi University of Science and Technology, has spent 5,000 yuan ($750; £565) on 28 tonnes in total, the report says.
Images from the campus show students breaking off chunks of the large ice blocks and filling buckets to take back to their dormitories. One man tells the China News Service he'll use it to keep drinks cool in his residence, but on social media most users think the university just needs to sort out some air conditioning.
"This is not a permanent solution," says one person on the Sina Weibo microblogging site. Another points out that the situation is far from unique, as most universities in the region have no air conditioning. But one user approves, writing: "I think this is very good, it's environmentally friendly."
A university official tells the paper that air conditioners can't be installed yet because the local power grid doesn't have enough capacity to cope with the extra demand, so the ice is an interim solution.
In recent weeks, students at other universities have complained about scorching temperatures making life uncomfortable in their housing blocks. Some opted to sleep outside, while others shared images online to show how they're beating the heat, using the hashtag #UniDormsWithoutAirCon. Among them, a group of male students inflated a large paddling pool in their bedroom, with one rather riskily setting up a little desk for his laptop above the water line.
Next story: Company admits doctoring Putin T-shirt photo
Use #NewsfromElsewhere to stay up-to-date with our reports via Twitter.