Altered Images: Company admits doctoring Putin T-shirt photo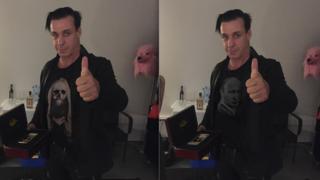 A luxury smartphone company has apologised for digitally altering images of a German rock star to make it appear that he was wearing a Vladimir Putin T-shirt.
Caviar, which makes Putin-inspired phones, is in hot water over a press release, most of which turned out to be false, the Gazeta.ru website reports. It included images of Till Lindemann, frontman of the metal band Rammstein, apparently clad in a black shirt plastered with Putin's face, giving a thumbs-up to the camera while holding one of the company's phones.
It also featured several "quotes" attributed to the the musician, who supposedly said he liked Mr Putin because he's a "serious leader, not a puppet - unlike all the others", and that political attacks on Russia are "unfair". The remarks were reported in major Russian news outlets including Komsomolskaya Pravda.
But Mr Lindemann says he never wore the Putin shirt, nor made any such comments. He tells Germany's Bild newspaper that the only comment he made before the band's Moscow show on 19 June was: "Moscow is an excellent city." Rammstein's website shows the un-edited photo, with no sign of Putin on Mr Lindemann's top.
Cavier has now admitted that the images were photoshopped, and the rock star's comments were "recorded inaccurately". A statement on the company's website - which includes the un-doctored images - says the photos were altered by a designer "as a joke for internal use" and then accidentally included in a press release. "Caviar apologises for the incorrectly interpreted and published information," it says, before adding what seems like a dig at the star: "Henceforth, we will more carefully choose celebrities for cooperation."
Next story: Chechen leader gets Apprentice-style reality show
Use #NewsfromElsewhere to stay up-to-date with our reports via Twitter.