Chechen leader gets Apprentice-style reality show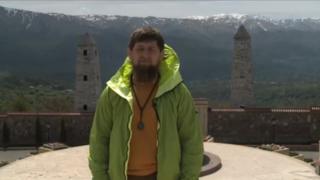 Chechnya's controversial leader Ramzan Kadyrov is taking part in a new reality show along the lines of The Apprentice.
Contestants on the programme, called The Team, will compete for a place in Mr Kadyrov's government by performing tasks that will take them to the "most beautiful corners of Chechnya", according to Russian state TV channel Rossiya 1, which will broadcast the series. It says they'll be climbing mountains and walking forest trails, with applications open to men and women of "any age or social status".
In a trailer, Mr Kadyrov says competitors will "have to adapt to any weather conditions, life situations and be ready for absolutely anything". Each stage will be judged by him and a panel of experts, and the final task is to devise a "plan for Chechnya's development", according to the programme's website. The winner is being promised a job as head of the republic's Strategic Development Agency.
Mr Kadyrov is credited with bringing stability to Chechnya after years of war and unrest, and he's a key ally of Russian President Vladimir Putin. But critics accuse him and his supporters of widespread human rights violations, including assassination and torture. Earlier this year, he was criticised for an Instagram post showing opposition politician Mikhail Kasyanov in the crosshairs of a gunsight.
He's no stranger to the world of entertainment, though, having hosted numerous Western celebrities in Chechnya, including actors Jean-Claude Van Damme and Steven Seagal, and boxer Mike Tyson.
Mr Kadyrov is already a well-known figure in Russia, but venturing into reality TV will undoubtedly raise his profile further, and serve as a showcase for his republic. According to journalist Leonid Ragozin, it's also symptomatic of the importance of television for the Kremlin and its allies. "First and foremost, Putin's Russia is a TV show," he tweeted.
Next story: Vienna carriage horses given time off during heatwaves
Use #NewsfromElsewhere to stay up-to-date with our reports via Twitter.