Vienna carriage horses given time off during heatwaves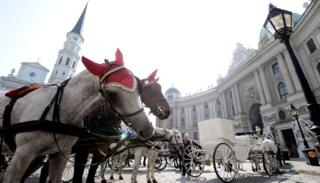 Vienna council has approved a law to prevent carriage horses from working in high temperatures.
New rules mean the horses, which draw the city's famous Fiaker carriages, won't have to pound the streets if the mercury rises to 35C on St Stephen's Square in the city centre, the OE24 news website reports. They'll also be getting some extra days off. The animals will only be allowed to work for 18 days each month - down from 20 days at present - and the law knocks an hour off their daily working times, too.
If 2015 is anything to go by, it could be a relatively relaxing summer. OE24 says the temperature rose above 35C in Vienna 18 times last year.
Councillor for animal protection Ulli Sima has welcomed the changes, which come into effect in mid-July. "Especially in light of the unusually hot days and climate change, we have to be more considerate towards horses pulling carriages," she says in a joint statement with environment councillor Ruediger Maresch.
But not everyone agrees. Councillor Elisabeth Olischar of the conservative People's Party accuses the Social Democrat/Green ruling group of "yet another attack" on Fiaker drivers.
There have also been complaints from people who rely on the horses for a living, national broadcaster ORF reports. "This not only ruins an entire group of businessmen, but also deprives the tourist city of Vienna of an attraction," says Gokhan Keskin, the Fiaker drivers' representative on Vienna's Chamber of Commerce. The chamber also thinks the local law could be unconstitutional, as they believe the regulations can only be changed through the Federal Animal Protection Act.
Next story: Malawi president under fire for mice-eating 'joke'
Use #NewsfromElsewhere to stay up-to-date with our reports via Twitter.