Vietnam capital sets target to ban motorbikes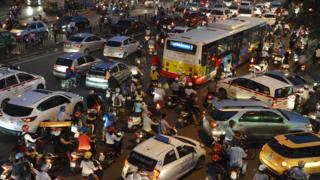 Officials in Hanoi are aiming to ban motorbikes from the city centre within 10 years, it's reported.
The local government wants streets to be motorbike-free by 2025 as part of efforts to tackle congestion, the Thanh Nien News website says. The Vietnamese capital has notoriously chaotic roads, with around five million motorbikes vying for space alongside half a million cars.
That situation is forecast to get worse in years to come: the authorities estimate that by 2020 there will be seven million motorbikes, and the number of cars will double. "This means the traffic situation in Hanoi will become extremely complicated in the next four to five years, so we really need a timely solution to this," says mayor Nguyen Duc Chung.
The city's transport authority wants to reduce the number of individual vehicles and boost public transport instead, and its chairman wants the number of buses to double. Construction of a new urban rail system is already under way.
Aside from frustrating drivers, Hanoi's traffic jams are also a major problem for the city's air quality. In March, official data showed that pollution had reached "hazardous" levels, although the environment ministry played down media suggestions that Hanoi's air was getting as bad as that experienced in Beijing.
Next story: Belarus prepares for currency changes
Use #NewsfromElsewhere to stay up-to-date with our reports via Twitter.