Sydney road dug up and re-laid every weekend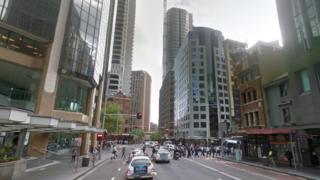 A street in central Sydney will be ripped up and then re-laid every weekend for the next six months as part of work on a new light rail line.
The line will run through the city's central business district, but the road in question is part of a busy intersection and it's considered essential to keep the area accessible on weekdays, the Sydney Morning Herald reports.
Workers have been tasked with digging up 120m (394ft) of road surface in order to map the location of utility pipes and cables and clear out items like old railway sleepers - remnants of a tram line which closed more than 50 years ago.
They'll then have to lay new asphalt and repaint all the road markings within 48 hours, repeating the process for 24 weekends on the trot in order to keep traffic flowing. The first portion of work has just been completed, with the road being dug up on Saturday, replaced on Sunday and back in use on Monday morning, the report says.
"It is one of the most complex intersections we have on the project and it's also one of the longest," project director Glenn Bentley tells the paper. "This is probably one of the most important phases, clearing the way so we can put down the slabs for the light rail line."
Extending Sydney's light rail system is costing the state and city governments A$2.1bn (US$1.6bn; £1.2bn), and it's due to begin operating in 2019. But construction has hit a few obstacles in recent months, most notably when more than 20,000 Aboriginal artefacts were unearthed at a construction site on the planned route. There have also been protests over the felling of century-old trees to make way for the rail lines.
Next story: Italian seaside resort promises rain refunds
Use #NewsfromElsewhere to stay up-to-date with our reports via Twitter.