Iceland strengthens road signs to stop thefts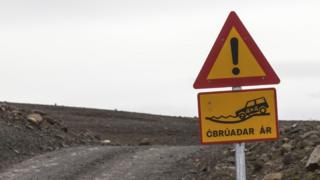 Iceland has strengthened its road signs in order to stop tourists stealing them to take home as novel souvenirs, it's reported.
The most popular signs to be pinched are the sort rarely found in other countries, specifically those marking fords that cross rivers, blind rises and gravel tracks, according to Iceland's RUV national broadcaster. Viktor Arnar Ingolfsson of the Road and Coastal Administration says they are now "using bolts that can't be dismantled with an ordinary car toolkit", and making the signs too heavy to carry off easily.
Mr Ingolfsson, who is also a noted crime novelist, designed some of the signs. He tells RUV that the international Vienna Road Traffic Agreement "simply doesn't provide for our topography", and this makes unique Icelandic signs particularly appealing to memento-hunters. "It's the way they look. For example, in English you just have the word 'ford'. But we also have a picture of a car driving into water, which is more easily understood," he says.
At one time Icelandic signs only used words, causing confusion for international visitors. He recalls that 30 years ago some German film-makers put "blind rise" signs up on roads in the north to let drivers know they were filming there, because they thought the word simply meant "warning".
As for the often-mooted idea that Iceland might add English to its signs, Mr Ingolfsson points out that many people in the country are fiercely protective of their language, which has changed little since the times of the Norse sagas. "We use English as a second language on some road information boards, and get complaints," he says. "Besides, not everyone here understands English."
Next story: Hungarian village opts for horses over bin lorries
Use #NewsfromElsewhere to stay up-to-date with our reports via Twitter.