North Korean leader seen smoking again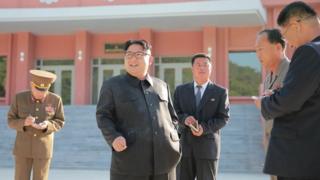 North Korean leader Kim Jong-un has been spotted smoking in public for the first time in around two months, despite the country being in the middle of an official anti-smoking campaign.
State media this week has been showing the country's Supreme Leader with a cigarette in his right hand during a visit to a children's camp in Pyongyang. Until now, news reports on Kim's activities have shown him without his habitual cigarette and an ashtray on a nearby table. He's known to be a heavy smoker, and BBC analysts say he may have just stopped smoking on official duties for the sake of the cameras. The leader was last seen lighting up on 15 March while attending a test of a home-grown North Korean rocket motor.
The sight of Kim smoking comes as a surprise, as the country is in the midst of what state newspaper Rodong Sinmun calls a "brisk" anti-tobacco campaign in a country which has a large smoking population. According to the World Health Organisation, over half of North Korean men were smokers in 2012, South Korean news agency Yonhap says, one of the highest rates in Asia.
Smoking in the country is almost exclusively a male habit, and to hammer home the "No smoking" message Korean Central TV broadcast a 40 minute-long programme entitled "The Extra Quality Favourite Item Threatening Life," in which women scolded male smokers, calling them "imbeciles who upset their surroundings".
State television in North Korea shows almost daily compilation programmes of Kim Jong-un's inspection visits to factories, military units and construction projects, and they are a useful barometer for Korea-watchers to catch up on the leader's habits and dress code; and to see which officials are in or out of favour.
Next story: Denmark plans asylum-seeker football league
Use #NewsfromElsewhere to stay up-to-date with our reports via Twitter.