Top Russian TV presenter mocked for Crimea gaffe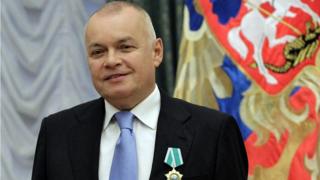 A top Russian TV presenter's gaffe about the status of the annexed territory of Crimea has provoked mockery from social media users.
Dmitry Kiselyov was presenting state TV's flagship weekly news programme Vesti Nedeli on Sunday, which included a report on the annual Aviadarts military aircraft competition, this year being held in Crimea. When the piece ended, Mr Kiselyov introduced the next report with the words: "And now back to Russia..."
It didn't take long for social media users to pounce on the remark, pointing out that the man widely known as Russia's "chief propagandist" had inadvertently suggested that Crimea was not part of the Russian Federation.
Russia annexed the peninsula following a disputed referendum in March 2014, but most governments around the world still deem it to be part of Ukraine. Mr Kiselyov himself was placed under sanctions by the EU for his role in the coverage of the annexation.
His gaffe quickly became the subject of social media chatter, with several users joking that he had made a "Freudian slip", and one suggesting that this would be his last show. "Kiselyov, you have 24 hours to explain this," threatened a Twitter account parodying Russian Foreign Minister Sergei Lavrov.
But while the blunder may have caused amusement for some, seriously questioning Crimea's status is no laughing matter in Russia.
Last month, Andrei Bubeev became the latest blogger to be convicted under a 2014 law effectively banning separatism in Russia. Among his offences was the reposting of an article entitled "Crimea is Ukraine". He was sentenced to two years in prison.
Next story: Church disrupts Georgian rock festival
Use #NewsfromElsewhere to stay up-to-date with our reports via Twitter.