Church disrupts Georgian rock festival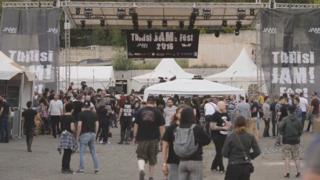 An international rock festival has been disrupted in Georgia after protests from a local priest who was unhappy about the location of the event.
The annual Tbilisi JAM! Fest, which featured heavy metal bands, had been going for about 90 minutes at a venue outside the capital when the power was cut, the Netgazeti news website reports. It followed complaints from the church over the festival's proximity to religious sites, with video footage showing the priest in discussion with organisers and police.
It's not clear what caused the blackout, but the venue's manager says it was the result of a damaged cable.
"This place is between a cemetery and a monastery, which is a holy place for Georgians and this insult is unforgivable," Father Giorgi Razmadze tells the Rustavi-2 channel. "There were cases, we saw it ourselves, when some people were urinating, others embracing and kissing each other on the territory of the cemetery."
Permission to use the site for the two-day festival had been granted by the local authorities, but an alternative location was found for the second day. One organiser tells Rustavi-2 that the venue's managers had bowed to pressure from "extremists who came and tried to disrupt the festival".
The incident left some revellers baffled, with one telling the Sova news site that he's religious but can't understand the fuss. "How can we talk about development when such things happen. This country will stay in the Middle Ages," he says, adding: "This is not how Christians act."
There was also anger among Georgian social media users. "Foreigners have stunned looks on their faces. Once again we disgraced ourselves in the international arena," writes one user. But others feel it could all have been avoided, with one person writing: "What a disaster, could they not have picked a different venue?"
Next story: Sauna photo contest for Finland's stamps
Use #NewsfromElsewhere to stay up-to-date with our reports via Twitter.