Denmark project pairs drones and ladybirds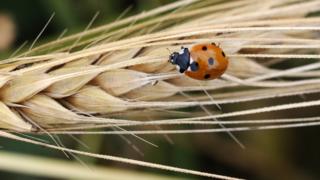 Danish researchers are developing an insect-dropping "eco-drone" for use in organic farming.
They're working on a device that can disperse ladybirds and predatory mites over organic crops to gobble up aphids and other pests, the FodevareWatch website reports. Researchers say one aim is to make organic farming easier and reduce the amount of crops lost to pest damage, ultimately bringing down prices for consumers.
But dropping insects from the sky isn't straightforward, even if some of them can fly. "The challenge is to develop a spreader that can spread the insects without destroying them," says Associate Prof Soren Wiatr Borg from the University of Southern Denmark (SDU). "They need to eat the pests before they themselves end up as bird food."
SDU is collaborating with Aarhus University and technology company Ecobotix on the project, which has received 8.4m kroner ($1.3m; £870,000) in funding from the Danish government.
Initially the project will focus on strawberry fields, orchards and Christmas tree plantations, because they cover a relatively small area, but the team thinks the drone could be used on a much bigger scale. "Previously, it has been difficult and far too expensive to use nature's own pest control methods on large areas, but by using the drones it is now possible," Prof Borg says.
Next story: Romania virtual gallery turns corruption into art
Use #NewsfromElsewhere to stay up-to-date with our reports via Twitter.