Rewards for South Korea soldiers who quit smoking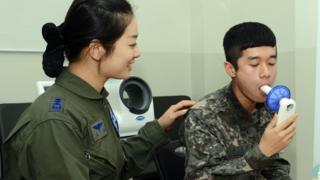 South Korea has launched a new campaign offering soldiers a host of rewards if they stop smoking.
The defence ministry is hoping it can encourage whole platoons to kick the habit together with the promise of extra holiday time if every member manages it, the Yonhap news agency reports. There will also be a cash prize of 4m won ($3,360; £2,300) for the units judged to have been most successful in their anti-smoking efforts. The ministry says it will give out leisure equipment such as pool tables, too.
The ministry cites a survey conducted in 2015 which said that just over 40% of soldiers smoke, compared to about 35% of Korean men in their 20s. It also found that smokers light up more often each day after joining the military. Officials say they want the cut soldiers' smoking rate to 30% by the year 2020.
The announcement was timed to coincide with World No Tobacco Day on 31 May, and the ministry says it will provide extra support for soldiers who want to quit smoking, including an expansion of anti-smoking clinics.
South Korea's government has been trying to cut tobacco usage in the general population through a variety of measures including a ban on lighting up in restaurants, bars and cafes. Parliament also approved an 80% increase in the price of cigarettes, which came into effect at the start of 2015.
Next story: Finland military exercise mistaken for invasion
Use #NewsfromElsewhere to stay up-to-date with our reports via Twitter.