Japan's hanami cherry blossom ritual 'under threat'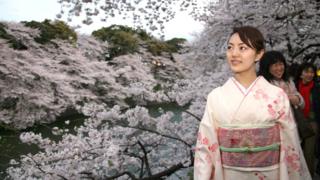 There are fears that Japan's iconic cherry blossom festivals could be a thing of past as the trees are threatened by an invasive pest, it's reported.
The culprit is the red-necked longhorn beetle - or aromia bungii - a species of beetle whose larvae feed on cherry and peach trees, often killing them, the Asahi Shinbun newspaper reports. Up to 4 cm (1.5 inches) long, the insect is thought to be native to China and South Korea, but has already been making its presence felt in Japan in the past few years. The Japanese government has classified it as harmful to the ecosystem, and in February sent guidance urging local governments to take action to bring it under control, according to Asahi Shinbun. One pesticide tested has reportedly shown promise.
Loss of the trees could endanger hanami - literally "flower viewing" - Japan's much-loved spring tradition of holding outdoor parties under flowering cherry trees to admire their transient beauty. "If no measures are taken to address the issue, the culture of hanami will vanish from Japan within 20 to 30 years in the worst case," says Ryutaro Iwata, a professor of forestry and entomology at Nihon University.
The beetle was first spotted in Japan in 2012, but is thought to have entered the country earlier, as the larvae can take up to three years to mature into adults. As far back as 2013, of 2,600 cherry trees surveyed in one town - Soka in central Saitama Prefecture - 100 had already been affected by the pest, and some had died. The news prompted wanted posters to go up in the town urging people to tread on the beetles. Since then, they've been spotted across Japan, including Tokyo and Osaka.
Next story: New Zealand's Maori 'emotiki' join emoji crowd
Use #NewsfromElsewhere to stay up-to-date with our reports via Twitter.