New Zealand's Maori 'emotiki' join emoji crowd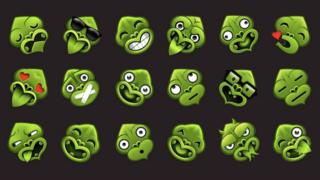 People wanting to text in a Maori "accent" will soon to be able to do so with the release of a special set of emoji in New Zealand.
Called "emotiki", the distinctive green symbols will be officially available for iPhone and Android users in July, but are already doing the rounds on social media, Radio New Zealand reports. Along with more usual ideas and emotions, the 150-character keyboard will also reflect Maori-specific concepts such as moves of the ritual haka warrior dance, as well as flax skirt, outrigger canoe and whanau - the term for the extended family typical of traditional Maori social organisation. There'll also be a small number of animated gifs, including one for pukana - a fierce expression with stuck-out-tongue used during the haka.
The emojis are the work of the Te Puia Maori cultural centre, which said it was going to keep them under wraps until July, but had confirmed their existence after being "thrilled" by the response online. The idea came from youngsters using social media to celebrate their performances at traditional Maori song and dance events, according to spokeswoman Kiri Atkinson-Crean. "All they could use were expressions and symbols from other countries," she told the Stuff website. "We wanted to give them another form of this language for an opportunity to express themselves."
Giving emojis a local flavour is becoming increasingly popular. In November 2015, the Finnish foreign ministry unveiled a set to represent the country in a tongue-in-cheek manner, replete with symbols for sauna-goers, a hard-rock headbanger and a Nokia phone.
Next story: Malaysian teachers confused by clapping practice order
Use #NewsfromElsewhere to stay up-to-date with our reports via Twitter.