Russians could face jail for insulting anthem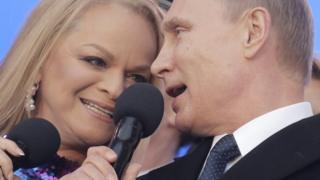 Russia's Supreme Court has cleared the way for a new law to make it a criminal offence to insult the national anthem.
This will bring it into line with the state flag and coat of arms, insulting which is already a crime, the Gazeta.ru website reports. The bill says "intentionally distorting the words or music of the anthem in public performance, social media, and on the internet" will be punishable by up to a year in jail. At present insulting the anthem is a civil offence that involves a fine of $45-$2,200 (£30-£1,500).
The authors of the bill, two pro-Kremlin members of parliament, say they were spurred into action by the "scandalous events of 8 April in Sebastopol" in Russian-occupied Crimea, when satirical verses appeared on a giant television screen during a rendering of the anthem at a government meeting. The police said the video editor had put up the first set of words he found on the internet, not realising that they mocked Russia.
"Imagine the scene. The city governor stands up, and on the screen behind him is this stuff," complained local interior department official Vladimir Tyunin in Komsomolskaya Pravda newspaper. The subtitles described Russia variously as "insane", "slavish", and "boastful", and were taken from one of the many parodies to be found online. One foul-mouthed parody from a US-based Ukrainian has been watched over 370,000 times on YouTube, but the draft law means relatively inoffensive recordings could land Russian artists in trouble.
US Radio Liberty's Russian service highlights a version of the anthem played backwards in a Russian airline advert, and a religious text performed by Orthodox Christians as examples that might fall foul of the law, not to mention older Russians who prefer the Soviet-era words that praised Communism.
This had convinced lawyer Igor Trunov that the bill requires serious reworking to stand up in court. He dubs it largely a "public-relations exercise" ahead of September's parliamentary elections, and most likely not the last of its kind either. "Just wait and see what weirdness the autumn brings!" he warns Gazeta.ru.
Next story: New Zealand sends in helicopters to fight mouse plague
Use #NewsfromElsewhere to stay up-to-date with our reports via Twitter.