Low-paid teacher in Cambodia 'set up armed gang'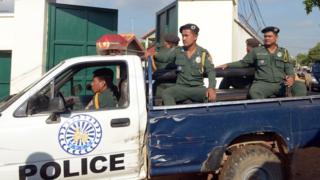 A primary school teacher in Cambodia allegedly set up an armed gang and turned to violent crime because his salary was so low, it's been reported.
Police in Phnom Penh say 62-year-old Moeng Sary was arrested after five years on the run following a string of some 37 armed robberies, and has been charged with theft and "using a weapon without permission", the Khmer Times reports. The former teacher from Cambodia's southern province of Prey Veng, was identified as a suspect by police following the robbery of a shop in which the owners were beaten, and an estimated $120,000 (£82,000) in jewellery and cash was taken. Authorities claim that this was Mr Sary's final robbery, after two of his alleged accomplices were captured and implicated him as their ringleader.
According to a report in the Cambodia Daily, the alleged "criminal mastermind" was arrested by chance this weekend during police checks on construction sites in the capital. Local police chief Chey Senghan told the paper that Mr Sary had made his late-in-life career-change because his teaching salary was so low. However, Mr Senghan thought that his career move was beneath somebody of his age and standing - "His idea was almost childish, like that of a teenager," he told Cambodia Post.
As for the three escaped gang members, another police official told the Khmer Times that their capture is only a matter of time: "We already know their identities. They cannot escape forever. They will be arrested," Major Ly Bunrith said.
Next story: Russian writer says war dead should get the vote
Use #NewsfromElsewhere to stay up-to-date with our reports via Twitter.