Russian writer says war dead should have vote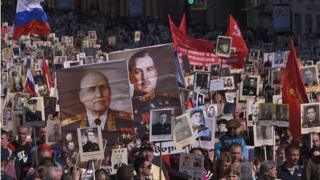 A controversial Russian academic has proposed giving the vote to the millions who died in the Second World War, so that they can "continue to influence the development of the country".
Alexander Ageyev told a conference by the powerful Orthodox Church on 'Faith and Deeds in a Time of Crisis' that the idea is "worth considering", the local Fontanka news site reports. Mr Ageyev is director of the Institute for Economic Strategies, an affiliate of the official Academy of Sciences, and so his comments have attracted considerable media attention - not least about the logistics of how the dead would cast their votes.
The proposal has some topicality. For the second year running a march through Red Square by the Immortal Regiment - descendants of the war dead, bearing portraits of the ancestors - has been a prominent feature of the official 9 May celebration of the end of the conflict, with President Putin himself taking part. Professor Ageyev told Fontanka that the dead should have a say, "given that they were directly involved in the country's salvation", and even wrote an article in his Institute's journal attributing hopes for the "resurrection of Russia" to the Immortal Regiment phenomenon.
As for practicalities, he suggested that their descendants could cast proxy votes for the fallen. Amid the predicable jokes about zombies, Gogol's satirical novel Dead Souls, about stuffing property registers with deceased serfs, readily occurs to social media users. Some wonder why Professor Ageyev doesn't consider votes for the "victims of Stalin's prison camps", while others ask whether "no taxation without representation" should also apply to the dead.
The idea of extra mandates has enjoyed a recent vogue in Russia. Last week nationalist MP Dmitry Nosov proposed a bill to give large families more votes in referendums that might affect their future. But the Russian Constitution firmly insists on one person - one vote, and Fontanka notes that St Petersburg Council's religious liaison department declined to take part in the conference.
Next story: Nobel laureate spots Turkish banknote error
Use #NewsfromElsewhere to stay up-to-date with our reports via Twitter.