German churches to get wi-fi 'Godspots'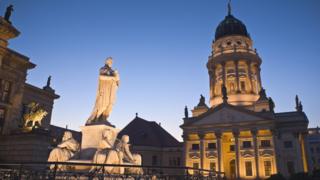 Worshippers at Protestant churches in eastern Germany will soon be able to access the internet via free wi-fi hotspots - billed as "Godspots" by the church.
Wi-fi is being installed at 220 churches across the Berlin and Brandenburg region, with plans to expand coverage to all 3,000 churches in the region, the RBB broadcaster reports. Among the first to get connected will be Berlin's French Cathedral on the central Gendarmenmarkt square, and the city's iconic Kaiser Wilhelm Memorial Church.
People will be able to access the "Godspots" both inside and outside, and the church is promising a secure network with no advertising. Users will first be greeted by a home page with information about the building, community and faith-related material, but then they'll be free to browse the wider web.
"People are no less spiritual than before, but the places of communication have shifted and much takes place on digital social networks and communities," Fabian Kraetschmer, the church's IT manager, says on the service's website. "With Godspot, we at the Evangelical Church want to create a safe and familiar home in the digital world."
While church wi-fi might seem unusual, visitors to Moscow can get a similar service in the city's most-visited cemeteries. Announced in December, the graveside wi-fi was apparently prompted by a survey in which respondents complained about a lack of internet access in cemeteries.
Next story: Viking TV shows boost Denmark tourist attractions
Use #NewsfromElsewhere to stay up-to-date with our reports via Twitter.