Viking TV shows boost Denmark tourist attractions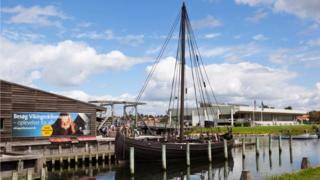 The popularity of TV dramas about Vikings has prompted an influx of visitors to Denmark's historical attractions - but not all of them want to separate fact from fiction, it's reported.
Staff at several of the country's medieval attractions tell public broadcaster DR that the international success of series such as UK-made The Last Kingdom and the History Channel's Vikings is to thank for booming visitor numbers. The Viking Ship Museum in the eastern city of Roskilde has seen ticket sales soar, welcoming 12,000 more visitors than last year. "We find that many of our visitors ask questions relating directly to the TV series - they want to know whether the history shown on Vikings is genuine or not," says curator Louise Kaempe Henriksen.
But the professionals' answers don't always please them. At the Fyrkat Viking Centre, home to a medieval ringfort and farmstead, US tourists often ask about a lead character in the Vikings TV series, Ragnar Lothbrok, who's thought to be based on several different people. Curator Anne Mette Gielsager Pedersen says: "When we tell them that he is a mythical figure, and that the many place names in the series never existed, they become almost a little petulant."
Next story: Bosnia museum highlights childhood war experiences
Use #NewsfromElsewhere to stay up-to-date with our reports via Twitter.