Finnish right-wing group dealt trademark blow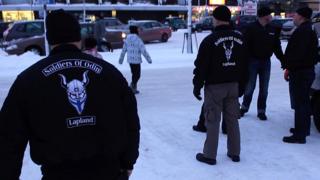 A Finnish woman has trademarked the name of a controversial right-wing group and plans to use it on glittery clothing in what she says is a protest against racism.
The anti-immigrant Soldiers of Odin group has drawn criticism for its unofficial street patrols, but in February it was officially registered as an organisation in Finland.
Now, Riikka Yrttiaho has registered the name Soldiers of Odin as a trademark for use on clothing, and she's planning to turn the group's current black-clad, Viking-inspired image on its head. "There'll be no lack of unicorns and glitter," she tells the Yle public broadcaster.
While the trademark has been approved by the Finnish Patent and Registration Office, the period for filing objections is not yet over, Yle notes.
Ms Yrttiaho, a former Left Alliance party official, says she and her friends clubbed together to pay the application fee. "We decided that a name can be used for good or bad," she says in the Ilta-Sanomat paper. "If they can register a racist street patrol in Finland, what can stop us registering something harmless and a bit more amusing... We want to spread the message of love and acceptance."
The Soldiers of Odin group was founded in Finland, but has since spawned groups using the same name in other countries, including the UK. Its members deny accusations that it's a racist or neo-Nazi organisation, despite social media postings which suggest some members harbour such views.
In the past, the group has threatened legal action against anyone imitating its name - including a clown collective who spoofed their street patrols and called themselves the LOLdiers of Odin.
Next story: Chinese calligraphy letter sets new auction record
LinkUse #NewsfromElsewhere to stay up-to-date with our reports via Twitter.