Iceland Blue Lagoon takes on cost of psoriasis treatments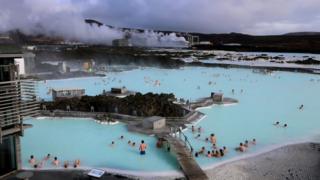 The operators of Iceland's famous Blue Lagoon are to foot the bill for people who use its thermal waters to treat psoriasis.
The lagoon is already approved by the country's national health service as a treatment option, but until now the expense has been covered by the state, the Iceland Monitor website reports. Now the lagoon's operators say they're taking on the cost in order to help out the healthcare system. According to the health ministry, it'll save the government 25 million krona ($200,000; £140,000) a year.
Psoriasis is a serious skin condition which causes red, scaly patches to form. Bathing in mineral-rich waters is said to provide relief for some sufferers.
"The healing properties of the Blue Lagoon is one of the cornerstones of our operation," says CEO Grimur Saemundsen. "Given the limited funding for healthcare services in Iceland, we want to do our bit to build a better society by providing Iceland's health system and patients with free treatment."
Anyone hoping to receive the treatment will first need to be referred by a doctor, the ministry says, adding that it expects the lagoon to provide 3,000 treatments each year. Health Minister Kristjan Thor Julius­son says the cash saved will still be used for psoriasis and eczema sufferers, but will be put towards other treatments.
Next story: Huge cake giveaway follows Philippines election
Use #NewsfromElsewhere to stay up-to-date with our reports via Twitter.