German Bundesliga rivals in bridge colour spat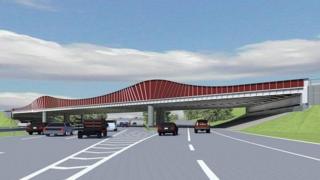 Officials in the German city of Darmstadt are up in arms over plans to paint a local motorway bridge in a rival football club's colour.
The brouhaha kicked off when the regional highways agency ran an online poll on the colour of a planned new bridge at a major motorway interchange just outside the city, according to public broadcaster ZDF.
Fans of local Bundesliga rivals Eintracht Frankfurt spotted an opportunity to get one over on SV Darmstadt 98 supporters, and issued calls on social media for people to vote for red - Eintracht's colour - and "mess up their bridge". The move appears to have helped red sweep to victory, with blue - SV Darmstadt's colour - beaten into second place.
But city officials in Darmstadt are determined not to let this lie. The council will vote on whether to push roads agency Hessen Mobil to reverse the decision, and the mayor has even written to the regional transport minister. "The city government would really like the bridge to be painted in a neutral colour," a spokesman tells regional broadcaster HR. But Hessen Mobil is refusing to re-run the vote or scrap the result, according to HR.
Changing the bridge decision would "also contribute to de-escalation between the fan groups," the spokesman suggests. This season, the two teams have been locked in a fierce relegation battle that's led to tension off the pitch. In December, Eintracht's home defeat in the local derby ended with their fans burning Darmstadt scarves and flags inside the stadium. Their fans were then banned from attending the return leg.
Next story: Uzbekistan schoolteachers 'paid in chickens'
Use #NewsfromElsewhere to stay up-to-date with our reports via Twitter.