Russians to get 'free' land in bid to boost Far East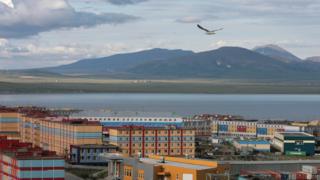 A law offering Russian citizens land in the country's sparsely populated Far East has come into force - but few think there'll be a rush to take advantage.
Every Russian can soon apply to hold a one-hectare (2.5-acre) patch of state or municipal land - about the size of a rugby field - for five years, the News.ru website reports. After that time, people can either rent or buy their plot, or may be given it free of charge. There's one condition: they must prove to the local authorities that the land has been used productively.
The area up for grabs is vast, stretching from Chukotka - Russia's most north-eastern point, near Alaska - down to the Chinese border, and as far west as the Sakha Republic (Yakutia) in Siberia. The region's population has been shrinking steadily since the end of the Soviet Union as residents leave for less remote and more prosperous parts.
Hopes of a mass migration to the region may be premature, though, the Moskovsky Komsomolets newspaper believes. One hectare is too small for profitable agricultural cultivation, it argues, especially in the area's usually harsh climate. But there's a more optimistic view on pro-Kremlin Life News, where Andrei Guskov, head of the "Man. Land. Russia" movement, suggests that people could band together to run new Soviet-style collective farms.
In the regions affected some local people have voiced concerns about an influx of outsiders. In March, protesters in the Sakha Republic called for a vote on whether to be included, and the region's governor says he's worried it could prompt a gold rush, with people hoping to find riches on their plots.
Next story: Horse racing rules found on ancient tablet in Turkey
Use #NewsfromElsewhere to stay up-to-date with our reports via Twitter.