Delhi taxi drivers block roads in fuel ban protest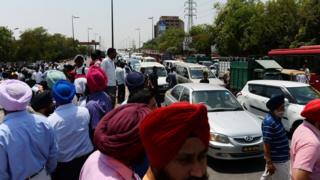 Hundreds of taxi drivers have brought roads to a standstill around Delhi in protest against a ban on diesel and petrol cabs operating in the city.
Taxi drivers have been told they must switch to using compressed natural gas as part of efforts to cut alarming levels of air pollution in the Indian capital, but drivers say they need more time to make the switch.
Huge traffic jams were reported on motorways during the Monday morning rush, with taxis blocking both carriageways on some major routes, the Times of India reports. Commuters vented their frustration on Twitter, posting photos of long tailbacks, with some saying they had been stuck for two hours.
On Saturday, the Supreme Court said it would not extend the 1 May deadline for diesel and petrol taxis to be off the streets, noting that it had already been postponed twice before. "Extensions have been given, you should have thought about alternatives by now," the Supreme Court ruling said.
Taxi drivers say the ban is unfair and will ruin their livelihoods. "What is happening is wrong. They are leaving us jobless by banning diesel cabs," taxi driver Balbir Singh tells the Hindustan Times. Another man says the decision was "sudden" and that drivers didn't have long enough to prepare. The paper says more than 27,000 of the city's taxis run on diesel.
Delhi is one of the most polluted cities in the world, with air quality worse than that of notoriously smoggy Beijing. Earlier this year, the authorities ran an "odd-even" number plate trial in an attempt to reduce traffic and curb emissions.
Next story: Debate over Chinese city's women-only bus
Use #NewsfromElsewhere to stay up-to-date with our reports via Twitter.