NZ drivers offered chance to 'feel like a prime minister'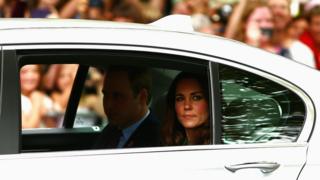 New Zealand's government is auctioning off its old fleet of limousines, with buyers being offered the chance to snap up cars used by ministers, the British Royal Family and visiting heads of state.
The auction company tasked with selling off the fleet of 32 BMW saloons tells prospective customers that they could "feel like a prime minister" if they purchase one of the three-year-old cars, the New Zealand Herald reports. "The vehicles have been used to transport the PM, Crown Ministers and other VIP visitors to NZ," the auction company Turners says on its website.
The famous passengers have included Prince Charles and the Duchess of Cornwall, as well as Prince William, the Duchess of Cambridge and Prince George during their 2014 visit, the paper says. With no guide price, the cars are being sold by tender, which closes near the end of April.
There has been some controversy over the cost to the taxpayer of replacing the cars, although the amount spent hasn't been confirmed. But the government has a sound reason for renewing their limo fleet, the NZ Herald reports, with the Department of Internal Affairs saying that their extended warranties had run out.
Buyers are assured that the cars have been well kept, with Turners sales spiel noting: "They have been kept spotlessly clean, never raced and with seats only graced with dry cleaned business-wear and leather briefcases."
Next story: Wild boar prompt alarm on Japanese island
Use #NewsfromElsewhere to stay up-to-date with our reports via Twitter.