Turkey's PM orders hunt for Ottoman architect's skull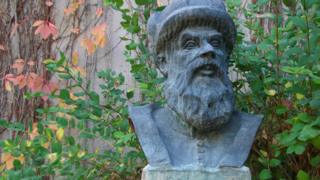 Turkey's prime minister has ordered an investigation into the disappearance of the skull of architect Mimar Sinan, who designed some of the Ottoman Empire's most celebrated buildings.
Sinan, who lived in the 16th Century, was buried in a tomb near Istanbul's Suleiman Mosque, both of which he designed. His skull was removed for study in 1935 by a group of historians, but - for reasons lost in time - was never replaced, the Daily Sabah newspaper reports. Now Prime Minister Ahmet Davutoglu says he's determined to find out its whereabouts.
"We will utilise all our tools, including DNA analysis, to find and return the skull to put an end to this blight to his memory," Mr Davutoglu said during a visit to the Suleiman Mosque, calling the affair "a shameful episode" in the country's history. "Sinan amalgamated an entire civilisation and left it to us, and we couldn't even protect his body," he said.
The removal of Sinan's skull came at a time of increased nationalism and racism, the Haberler newspaper says, and it's thought that scientists wanted to measure his head to assess the possible brain capacity of the man regarded as an architectural genius.
For Mr Davutoglu, the loss of the skull is comparable to poor decisions which he says let "monstrous" modern buildings "betray" Istanbul's skyline. He says, from now on, ministers should not approve any building that harms the city's "nature and historical fibre". "If we had truly learned Sinan's lessons, we would have never erected these buildings."
Next story: Italian bookshops refuse to stock mafia family memoir
Use #NewsfromElsewhere to stay up-to-date with our reports via Twitter.